I've spent the past month filming videos, crafting tarot spreads, and designing worksheets to bring you Ancestral Healing | A Tarot Journey.
In this course, you'll...
~ create a detailed tarot map of your family tree so you can understand your psycho-spiritual and genetic legacy on a macrocosmic level
~ make connections between the "dark" cards of the tarot and events and cycles that govern your family's shadows
~ identify the challenging traits you've inherited and begin the process of breaking the cycle to create a healthier, happier legacy
~ craft and perform a forgiveness ritual so you can release resentment and live in your personal power
~ connect with your ancestors so you can learn, let go, and heal
The course includes eight videos totaling 2.5 hours, five original tarot spreads, 30 journal questions, and five exercises to help you along this journey. I look forward to seeing you at Tarot Summer School!
Ancestral Healing Course Outline
Module One

Video: Introduction + "Drawing" Your Family Tree
Exercise: Family Tree Unconscious/Conscious Tarot Spread + Reading Reflection
Module Two
Video: Skeletons in the Closet—Shedding Light on Your Collective Family Shadow

Exercise: Exploring Family Narratives Through the "Dark" Cards of Tarot
Module Three
Video: Exploring Harmful Dynamics, Patterns, and Behaviors in the Nuclear Family
Exercises:
1. Alpha/Beta Worksheet
2. Well Parent/Unwell Parent Workheet
3. Sibling Rivalry Worksheet (exploring the golden child / black sheep dynamic)
4. Patterns of Abandonment Worksheet
5. Childhood Abuse/Neglect Worksheet
Module Four
Video: Identifying Shared Traits + Breaking the Cycle
Exercise(s): Making Connections and Tracing Patterns + Tarot Reading: "The Sins of Our Forebears" Spread

Module Five
Video: Reframing

Exercise(s): Reframing, Accessing Compassion, Building Acceptance + Tarot Reading: "Working Through Shame" Spread
Module Six
Video: Welcoming the Process of Forgiveness
Exercise: Crafting and Performing a Forgiveness Ritual + Tarot Reading: 'Embracing Forgiveness" Spread
Module Seven
Video: Building Relationships with Your Ancestral Guides
Exercise(s): Finding Your "Feel Good" and "Found Family" Guides + Tarot Reading: "Ancestral Connection" Spread
Module Eight
Video: Celebrating Yourself--Honoring Where You Came From and Taking Charge of Who You're Becoming
Exercise: 10 Ways to Celebrate Yourself
Your Instructor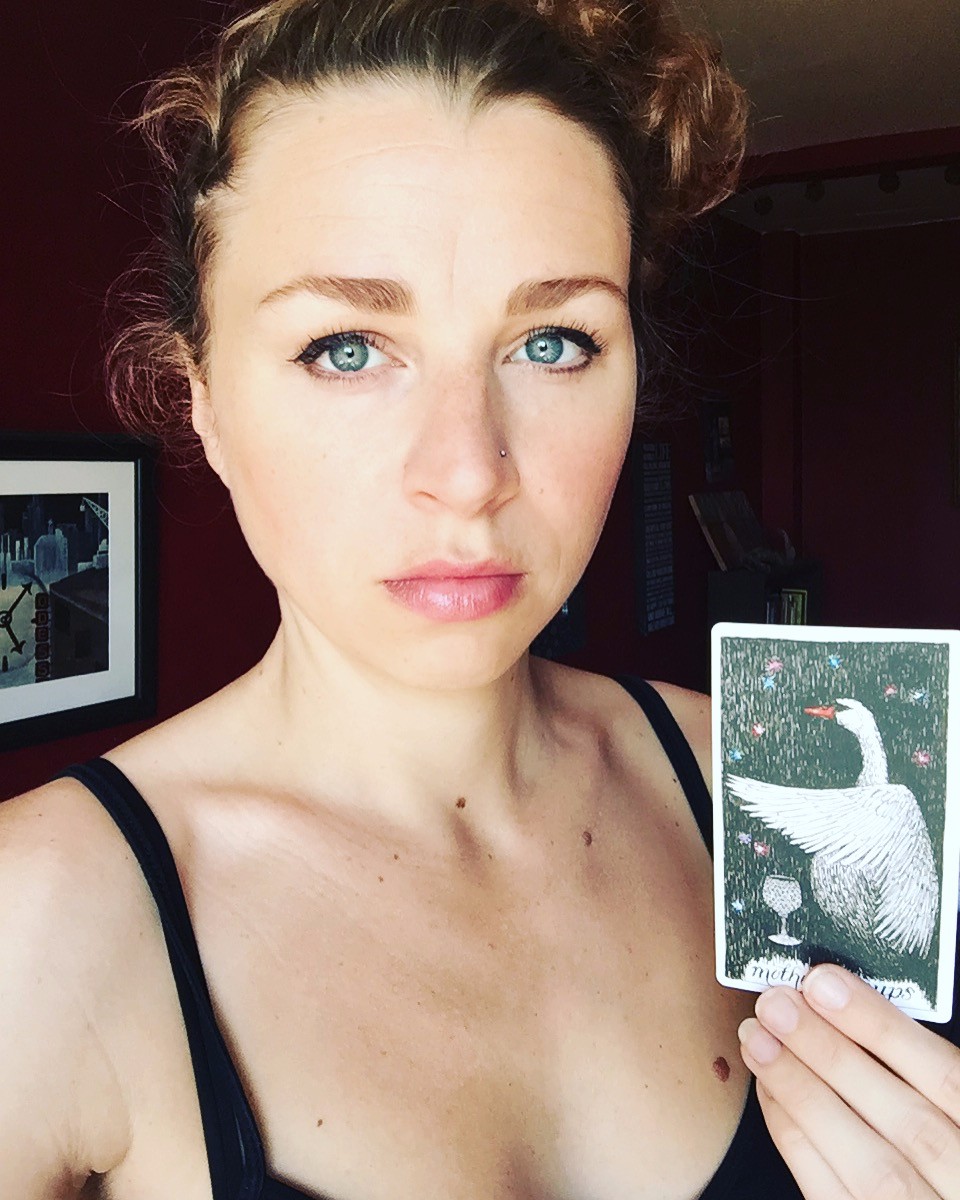 Jessi Huntenburg is an intuitive taroist, yogi, and eclectic witch practicing out of Philadelphia, PA. Her approach to tarot is influenced by an academic background in literature and critical theory, esoteric spirituality, and a deep interest in the dynamism of the human experience. Her interest in tarot was piqued around the same time she began performing ritual and meditation, so the two organically bloomed into a dual practice of self-reflection and soul work.
During a period of intense psycho-spiritual work, Jessi felt called to offer her services as a tarot reader to help guide and support others on their journey. Her belief that a personal tarot practice can heal and reveal inspires her to share her knowledge and experience with tarot students and enthusiasts through educational materials found on both her website and Youtube channel.
Jessi contributes monthly tarotscopes to Siobhan's Mirror and is a co-host of Spread This, Witches, a fortnightly videocast that marries the world of tarot and witchcraft. She's the founder and administrator of Tarot for Spirit, an online group that explores the intersection of tarot and spirituality, and the author of A Ritual of Forgiveness, a free e-book that details her seven-day process of release and closure. She considers her ability to practice tarot a sacred gift, and is truly grateful to share that gift with the spiritual community. You can learn more about her services by visiting www.jessihuntenburg.com.
Course Curriculum
INTRODUCTION + WORKBOOK
Available in days
days after you enroll
MODULE ONE | "Drawing" a Family Tree
Available in days
days after you enroll
MODULE TWO | Exploring Family Narratives Through "Dark Cards"
Available in days
days after you enroll