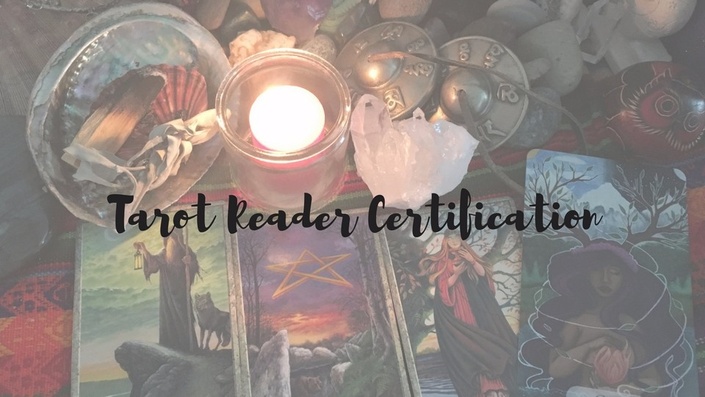 Tarot Reader Certification
Become A Great Reader By Learning To Heal, Help And Guide With The Tarot
Watch Promo
Learn To How To Be A Confident Tarot Reader
The Tarot is an incredible tool for healing and creating positive change in people's lives. A good Tarot Reader can use the Tarot to help people through challenging life experiences and difficult choices. It assists with finding clarity and facilitates spiritual growth.
The Tarot is a large system and it can be overwhelming when learning the meanings of the 78 cards. Especially when each card could have a completely different meaning depending on the focus of the reading.
Learning The Tarot Doesn't Have To Be Overwhelming...
It Can Be A Fun And Transformational Experience.
The Tarot Reader Certification course (also called Tarot Apprentice) is an interactive Tarot experience and a living Tarot book. It will guide you to becoming you own Tarot authority.

I've created this course because when you have the right guidance and materials, you can fast-track your learning and start feeling confident as a reader.
The course allows you to work through the 8 modules at your own pace, while being able to refer back to past materials easily to review specific cards when needed. You can come back to each card and section as many times as you would like.
Topics Covered Include:
What is the Tarot
What the Tarot can and cannot do
Tarot myths debunked
Caring for your Tarot deck
Tarot charging and blessing ritual
Grounding and centring ritual
The Fool's Journey
Tips for reading and interpreting the cards
The story of the Minor Arcana
The Major Arcana - each of the 22 cards
The Minor Arcana - each of the 40 cards
The Court Cards - each of the 16 cards
6 ways to read a Tarot Card
Tarot reading ethics
Numerology and the Tarot - 101
The Tarot and colour
Astrology and the Tarot - 101
Tarot card connections
Dealing with difficult Clients
Building your Tarot business
Is this Course for Me?
This course has been specifically designed for three types of people: Sages, Rowan's and Beau's, discover which one you are below:
Are You A Sage?
Sage's are complete Tarot newbies. They have always been drawn to the imagery, magic and mystery of the Tarot, but have never taken the steps to learn it. The Sage gets a rush of excitement about learning the Tarot and is an information sponge. A Sage has a book or two (but has secretly never finished either of them, it's cool I won't judge) and looks up tarot meanings every once and a while but needs structure and a step by step process to really get engaged with the material.
The Tarot Apprentice course will rock the Sage's little socks. We don't just cover the 78 cards but a lot of Tarot readers' foundational information with a wealth of videos and writings.
This isn't just a bunch of text - you can get that from the magical oracle known as Google. This is an exploration through the written word, video, exercises, discussions with fellow academy members and a practicum. It is like having a one-on-one teacher and being part of a larger school community. (Tarot Hogwarts anyone?)
Are You A Rowan?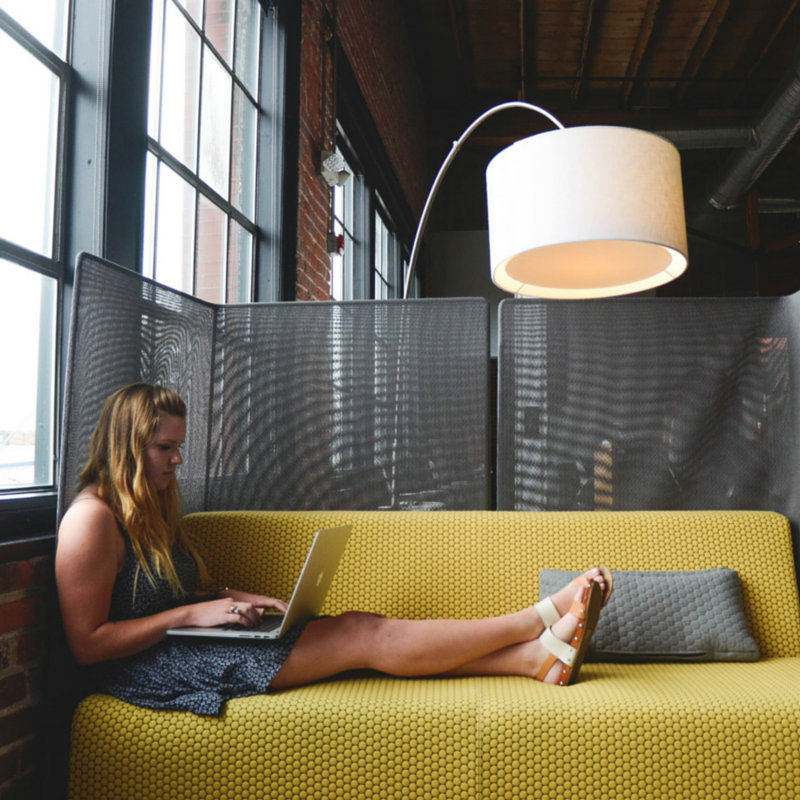 Rowan's learnt the Tarot years ago, but for the last few years their precious 78 cards have been collecting dust while whispering to be picked up again. Rowan's want a unique refresher that is not just another book. Rowan's are seriously thinking about developing their Tarot skills and want to rejuvenate their foundations.
For Rowan's The Tarot Apprentice reignites the fun and passion of the cards. By refreshing your love for the tool, you'll flourish in your practice. Rowan's know that they want to be the commander of their own life and want to work past some of the repeating cycles they have been creating using a hugely successful, multi-faceted and accessible tool.
Are You A Beau?
Beau's love learning as much as they can about the Tarot. They have drool-worthy collection of decks and are always looking to expand their knowledge on the cards and their connection to them. Beau's want to build a community and join in on conversations with like-minded Tarot People. Beau's know that the Tarot is their JAM and are going to have their own Tarot business in the future.
Beau's know their stuff, but are serious about getting professional development and certification under their belt before they start to build their Tarot empire. Having lifetime access to an ever growing course will help to ensure that reviewing and deeper learning is always available. This is also an invaluable step before taking the Tarot Readers Academy's Advanced and Tarot Boss courses.
Learn At Your Own Speed
There is nothing else on earth like the Tarot. Nothing. Learning it needs to be an interactive and transformational experience. This is not a stuffy boring course. I sing. I occasionally cuss. I'm passionate and I want to connect you to this amazing tool.
This course gives you the time, encouraging space, permission to dive deep and discover. Often, we push our passions to the side because life gets bloody crazy! I know I have an 16 month old, who keeps me on my toes!
The Tarot Apprentice course will always be there, ready and waiting for you. You can complete the one module a week as recommended or you can just finish a couple of lectures at a time. Do it at your own pace. AND our amazing Tarot Readers Academy tracks your progress.
Are there Videos for visual learners?
Yes! There are videos, stacks of them.
Do I get worksheets?
You betcha! There are downloadable worksheets for each module.
Will there be a practical element to this course?
Absolutely! There are hands-on exercises for every module.
What else is included?
There is the amazing community where you can collaborate and connect with fellow academy members and grow together. We have a private Facebook community where you can ask myself and other members questions and get access to an amazing wealth of knowledge about Tarot.
There are live hangouts so, we can all get together and you can ask questions and we can even have live Tarot readings. If you can't make the live dates, they will be recorded and you will be able to watch them any time. You'll also
You will be the first to know when there are additions to the content as this course is constantly growing.

About The Tarot Reader Certification.
If you want to read Tarot for other people and build relationships with Clients then the Certification is available as well. The Certification includes There are a bunch of additional offerings for students, who want to get a certification.

I take certification SERIOUSLY. I will only certify those who have DONE THE WORK and who are ready themselves. If you choose certification, but need to take more time, then we take more time. No mass certification here.
This is the option for those Students who want to work with the Tarot professionally.
Here is what you get on top of the lifetime access to the course and community:
1 on 1 with Ethony - Over Skype. During this session, we will discuss any questions, concerns, personal blocks. (this includes 2 x 40 min sessions or the equivalent in time, more time and sessions can be booked at extra cost if needed)
All homework for the certification checklist will be personally reviewed and checked before and this will also be open for discussion.
You will be asked to conduct a Tarot Reading for Ethony over Skype as a training exercise for pointers and feedback. (this will help you gain confidence in reading the Tarot for others)
5 Case studies with real people will be arranged for you to complete for your certification.
Certificate mailed to you (worldwide postage is included)
Ongoing support in your Tarot Career.
Please note that all course investment is in USD.
If you are geographically located in the EU, VAT will be added to your course investment at checkout. This is done automatically by the software we use.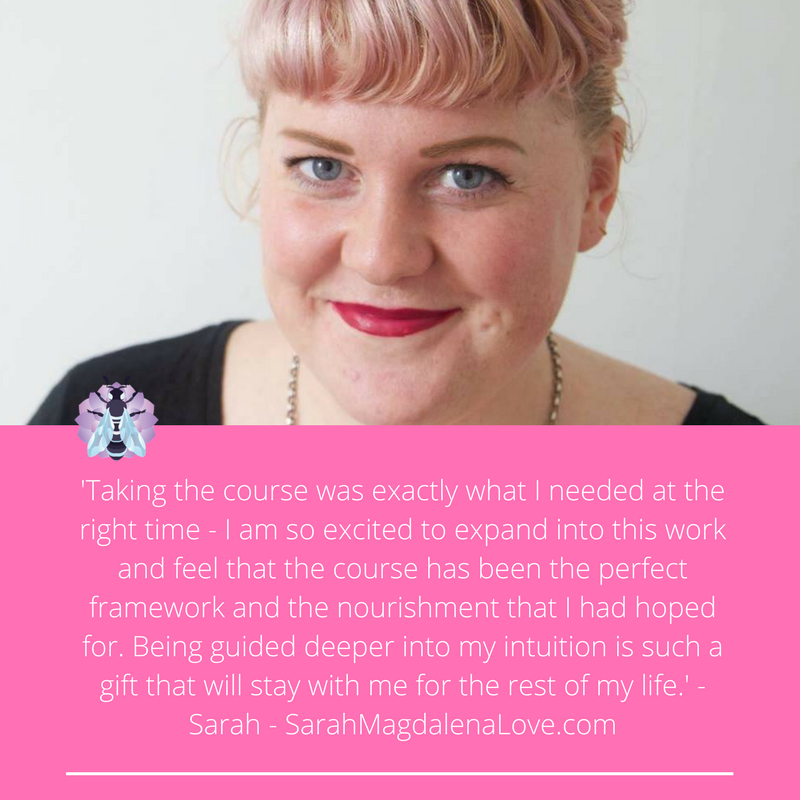 What if I don't like the course after signing up?
Our refund policy is this: blood, sweat and tears have been shed to get this baby out into the world. So if you want your money back within the 14 days you have from your course start. (Either enter launch date or your purchase date going forward) I will want to know why. Not to be a bully about giving you your refund. I want to know how this course and I failed you. Because I don't want to fail anyone, especially if any part of the exchange between us gave you unmet expectations.
I will want to complete an exit interview and questionnaire with you to make sure that we were super clear on the communication of what this course is and what you would get and why you signed up.
What do I need to have before starting the course?
All you need is a Rider-Waite Smith Tarot Deck and a Notebook that can be used as your Tarot Journal.
Here are some of my recommended Tarot Decks for Tarot Apprentice Students.
The Fellowship of the Fool Tarot
What do past Students of yours say about the course?
My past students have all been in face to face workshops of mine, so please do keep that in mind with the testimonials. I think the online course is even better as it has more advantages.
'Ethony's Tarot Apprentice Certification program gave me the confidence I needed to start reading for other people. She's put together a comprehensive, well-organized course that breaks the complexity and mystery of the tarot down into easily digestible lessons. Her videos are packed with great tips and insight, and the reflection prompts and exercises helped me develop a much richer, deeper understanding of the tarot. Ethony is committed to making sure her students get what they need to become effective readers--she provides a wealth of knowledge on establishing and running a successful tarot business as well. This program is such an amazing value for anyone who's serious about starting a tarot business... I can't recommend it enough.' - Jenn Waltner - Phoenix & Lotus
'I originally had a mini reading with Ethony and loved her simple and matter of fact approach to her readings, she was caring but more importantly honest and skilful in revealing truths I couldn't yet see that did come to pass. Intrigued I then joined one of her tarot classes just to learn more about it rather than to do readings for others. The course was so fantastic, Ethony is sooooo passionate and knowledgeable about the tarot I was blown away by the depth of her understanding, her passion was infectious and the class became a highlight of the week, I learnt so much and gained a lot of confidence in my readings and now enjoy reading not only for myself but friends and family too.
I never thought I would pick it up so quickly and I know its thanks to Ethony's great talent and passion that I have grown in leaps and bounds in my readings and love and understanding of the tarot. I definitely recommend her courses and readings to everyone, even if you aren't a complete tarot newbie like I was you will re energise your skills and have a lot of fun too :)'- Sarah K, Perth – http://www.handmadewonderland.net'
"Taking the course was exactly what I needed at the right time - I am so excited to expand into this work and feel that the course has been the perfect framework and the nourishment that I had hoped for. Being guided deeper into my intuition is such a gift that will stay with me for the rest of my life." - Sarah - www.daydreamingwolves.com

'I have taken one of Ethony's courses and LOVED IT! She is bright, bubbly and super knowledgeable. She makes learning interesting and relevant. She is a good combination of feet on the ground but connected to the clouds. She inspires you to do your best. Excellent value for money and her level of knowledge with the Tarot is superb. I would recommend her she is AWESOME and AMAZING! She has a great connection with herself and her surroundings!'- Tasmar, Gosnells Western Australia
For more testimonials please visit.
I think I am ready and other suggestions?
Please go on and view my videos on my channel before you sign up if you haven't already. If you have found us through the Youtube Channel.
Why? Because once upon a time, I dumped a lot of money into a course that I was super excited about. When I finally got around to doing the paid courses the presenters voice made me want to scream. I couldn't listen to it. Which meant over 50% of the content was useless to me. So, see if you like what I have to say on my weekly channel and how I say it.
Thank you for stopping by and if this course is right for you, if you feel excited about it, I look forward to meeting you and sharing your Tarot Journey with you.
Ethony*
I am happy to field any questions in regards to this course via [email protected]

Your Instructor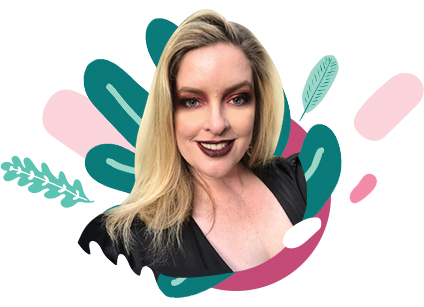 Ethony is a Tarot reader and author who loves to create more than sleep. She is the Headmistress at the Tarot Readers Academy where she teaches and mentors Tarot professionals and students.
She is the host of Tarot Summer School, an annual program that includes 10+ amazing teachers sharing their knowledge of Tarot, mysticism, witchcraft, and other specialties. She has been a practicing eclectic witch for over 18 years and runs the Awakened Soul Coven, an online learning circle open for any type of witch.
She has published a growing number of decks including the Bad Bitches Tarot, the Awakened Soul Oracle, the Prince Lenormand Oracle, and the Money Magic Manifestation Cards. Her first book, Your Tarot Court, was published by Llewellyn Publications in 2019.
Frequently Asked Questions
When does the course start and finish?
The course starts when ever you are ready and is completely self paced. We recommend completing one lesson a week. Certification Calls are scheduled in around week 4.
How long do I have access to the course?
How does lifetime access sound? After enrolling, you have unlimited access to this course for as long as you like - across any and all devices you own.
What do I need get? What are my Tarot Apprentice supplies?
All you need is a Rider-Waite Smith based Tarot Deck and a Notebook that can be used as your Tarot Journal. There is a list of recommended Tarot Decks at - Insert link to Academy Page about Resources
I am a complete beginner with the Tarot is this course for me?
Yes! This course has been designed for those who have never picked up a Tarot deck to those who are have a intermediate understanding of the Tarot. Even advanced Tarot students will get a lot out of this course.
I have Google why do I need this course?
Good question as that is very true there is a lot of information out on the internet on every subject. The value of this course is the 10 hours + of video training. The huge amount of information and the support of students and course creator in the Facebook Group. Anytime there is something new added to this course you get access! We all have our own points of view to share on the Tarot and you never stop learning.
This course is closed for enrollment.