 LIFETIME ACCESS
Learn on your own schedule CERTIFICATE OF COMPLETION
Showcase your achievement

RISK FREE
30 day money back guarantee
Create powerful talismans by working with the Tarot, ritual, visualization, and your magical self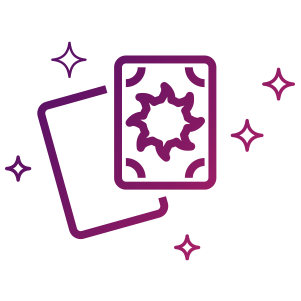 Get ready to make some magic! Learn how to create powerful and empowering talismans by working with the Tarot, ritual, visualization, and by tapping into your own magical self.

A talisman is a magical tool, often a piece of jewelry, that has been consecrated for your own unique purpose. In this course, you will create a talisman that will support you in reaching your specific goals, manifesting your dreams, and living the life that you desire.

By working with specially designed Tarot spreads, you will learn how to get laser-sharp clarity on what you really want to manifest in your life, and the steps you can take to achieve that. You will then go through the process of weaving the energy and insight of your Tarot reading into the creation of your magical talisman. This powerful combination of Tarot and talismans will guide you to transformation, inspiration and intuitively guided action.

The course includes:

What is a talisman and how do they work?

Choosing the best material for your talisman


Timing: working with the energy of the seasons, the Moon, and significant occasions

Psychic Preparation for Tarot Readings

How to create powerful and effective intentions and set them into motion

Specialized Tarot spreads and techniques

Creating your affirmation, power statement or mantra

Consecrating your talisman with ritual and visualization

Working with your talisman going forward

Bonus: a specialized look at talismans for love, money and more!
At the end of this course, you will have created at least one personal, magical Talisman, and you will know how to create more whenever you wish to. Also, you will find that your Tarot and intuitive skills will have deepened. By using this process, you will be able to deliver a powerful Tarot experience to yourself, to your friends, or to your clients, one that continues to have an impact and benefit long after the reading has finished.

"I enjoy that I can go at my own pace. I had to pause my studies for over a month but I was able to pick up right where I had left off with no pressure. I really enjoy the variety of lessons as well as the teachers. Something new to learn in every class."
- Chloe W
Your Instructor
Lori Lytle, Inner Goddess Tarot, is a diviner, a priestess, an ordained minister with the Canadian International Metaphysical Ministry, an introverted empath, and a devotee of cats and cards. Her mystical yet practical Tarot work focuses on creating magical talismans, as well as Tarot practices that support the sensitive introvert soul. She is currently collaborating on the creation of the Unifying Consciousness Tarot, coming soon to Kickstarter. Visit innergoddesstarot.com and unifyingconsciousnesstarot on Instagram for more.
COURSE FEE
INCLUDES LIFETIME ACCESS "I love the extensive, wide variety collection of classes, I love that I could pick and choose which ones were the best fit for me, and I love that I can take my time and work on them as time permits!"
- Jaida W