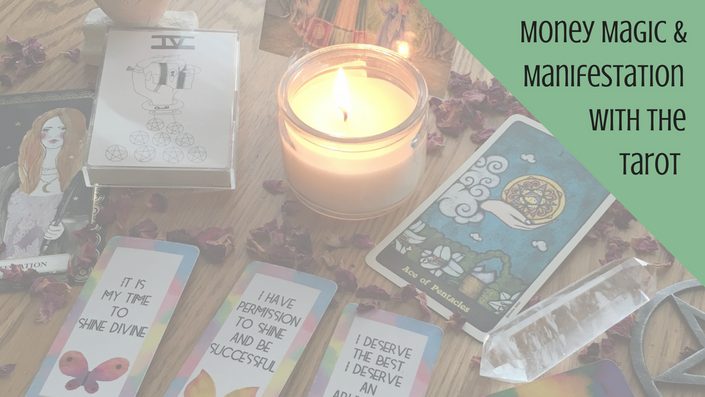 Money Magic & Manifestation with the Tarot
Breaking down the money blocks and increasing your money flow using the Tarot.
Watch Promo
Enroll in Course
The Tarot is a powerful manifestation tool and can be used to assist us with identifying our money blocks and bring in lifelong abundance.
For Tarot Summer School 2017 I am going to be sharing some powerful tools, guided meditations, tarot spreads and rituals for money magic and manifestation. These are all instruments you can use more than once for the rest of your life to create prosperity in your life.
I believe that everything is an inside out job. Whether you are looking for the perfect partner, a new job, your life purpose or more money. We all have the ability and power to change our lives and our bank accounts.
This course is a perfect metaphysical partner to practical money management practices such as budgeting and financial responsibility.
In this course we are going to be looking at
Accepting abundance in your life
Your relationship with money
The Big THREE Money Baddies and how to conquer them
Identifying your money blocks
Aligning your energy for becoming a money magnet
Tarot Spell for Money Attraction
You will be lead through each step with the spells, exercises and meditations.
What you will need
A basic knowledge of the Tarot will be helpful in this course but not essential.
A Tarot deck that you feel connected with
A few ritual tools will be required but they are going to be kept to tools that are easy to come by.
I have been working with these magic making activities for years to build a life and business that I freaking love. I can't wait to share them with you and create some MONEY MAGIC!
Tarot Summer School Information
Where can I see the full Tarot Summer School lineup?
Who can I contact at the Academy if I have questions?
Please contact [email protected]
Can I upgrade my single purchases to a Season Pass?
Yes, please contact [email protected] and you can upgrade to a season pass.
How Does Tarot Summer School Work?
You can register for ANY of the Tarot Summer School courses starting June 1. Summer School closes August 11.
The first class goes live on June 21. You'll receive an email each time a class is released. You can attend classes at your convenience and you'll have lifetime access to any classes you purchase.
What If I Can't Watch The Course I Have Enrolled In The Day It Goes Live?
It's okay, Tarot Readers Academy students are all over the world. If you are unable to watch your course the day it goes live you will be able to access it forever via your student portal at the Tarot Readers Academy.
What Is The Last Day I Can Enrol In Tarot Summer School Courses?
12 AM PST on the 10th of August 2017
There will be a closing ceremony on the 11th of August.
Are There Payment Plans Available For The Season Pass?
Yes, there is a payment plan option for the season pass, you will see it when you click, 'enrol in course' or scroll down to the bottom of the season pass page on the Tarot Readers Academy.
What Are The Payment Methods Accepted At The Tarot Readers Academy?
All major international credit cards (Visa, MasterCard, American Express) are accepted and so is PayPal.
Please note that if you are geographically located in the EU, VAT will be added to your course investment at checkout. This is done automatically by the software we use.

What Is The Refund Policy With Tarot Summer School Courses?
There is a 30-day refund policy from date of purchase. Please contact the headmistress at [email protected] for these enquiries.
Please note that you will not have access to the courses if you process a refund.
Is There A Way To Speak To The Tarot Summer School Teachers Of The Course That I Have Enrolled In?
Summer School Teachers can be contacted through our Facebook Community and will also be joining in on the live Campfire calls where you can ask them questions about their courses. Not all Teachers will be able to join us for the live calls but they will try to make it.
What If I Can Not Make Any Of The Campfire Q&A Sessions?
If you have a burning question or want to ask your teachers something specific about the workshop that you are in you can submit a question via email or the Tarot Readers Academy Facebook Group and we will endeavour to answer it for you.
As a Tarot Summer School student you will have access to the recordings of the Campfire Q&A sessions after they are done via your Student portal at the Tarot Readers Academy.
Your Instructor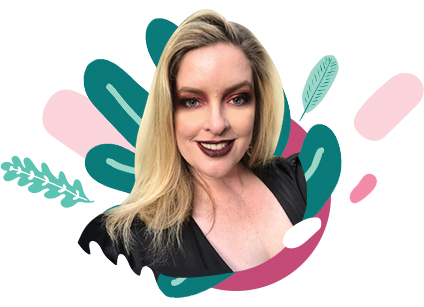 Ethony is a Tarot reader and author who loves to create more than sleep. She is the Headmistress at the Tarot Readers Academy where she teaches and mentors Tarot professionals and students.
She is the host of Tarot Summer School, an annual program that includes 10+ amazing teachers sharing their knowledge of Tarot, mysticism, witchcraft, and other specialties. She has been a practicing eclectic witch for over 18 years and runs the Awakened Soul Coven, an online learning circle open for any type of witch.
She has published a growing number of decks including the Bad Bitches Tarot, the Awakened Soul Oracle, the Prince Lenormand Oracle, and the Money Magic Manifestation Cards. Her first book, Your Tarot Court, was published by Llewellyn Publications in 2019.
Course Curriculum
Intro & Why Money
Available in days
days after you enroll
The Big Three Money Blocks
Available in days
days after you enroll
The Steps in Money Manifestation
Available in days
days after you enroll