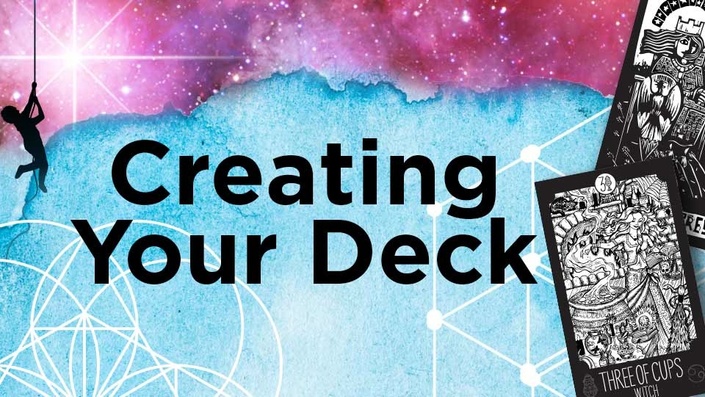 Creating Your Own Tarot and Oracle Deck
The Magic of Creating, Printing, Reading With and Selling Your Own Deck
Watch Promo
Enroll in Course
Have you always wanted to create your own tarot or oracle deck?
Dreams of reading with your own creation, or launching a new deck into the world?

Come join us as we create our own decks and take them from an idea to a printed reality!

Creating a custom deck is a magical experience that forces you to look into WHO you are as a reader, what do you believe as a reader, what symbols are important to you, and what do you look for in a deck?

IMHO, creating a deck was one of the most fulfilling experiences of my tarot journey!

The topics we will be covering in this class are:

Oracle, Lenormand or full-fledged tarot?
Choosing the Theme of Your Deck
Your Artwork
Prepping the Artwork for Print (The tech specs, the pixels and getting your stuff ready!)
To Guidebook or not to Guidebook?

We will also see snippets from other deck creators and learn a little bit about their process!

If you've always dreamed about creating a deck, this is the perfect prep course to get you started. I'd love to have you join!
xo
Chris-Anne
Tarot Summer School Information
Where can I see the full Tarot Summer School lineup?
Who can I contact at the Academy if I have questions?
Please contact [email protected]
Can I upgrade my single purchases to a Season Pass?
Yes, please contact [email protected] and you can upgrade to a season pass.
How Does Tarot Summer School Work?
You can register for ANY of the Tarot Summer School courses starting June 1. Summer School closes August 11.
The first class goes live on June 21. You'll receive an email each time a class is released. You can attend classes at your convenience and you'll have lifetime access to any classes you purchase.
What If I Can't Watch The Course I Have Enrolled In The Day It Goes Live?
It's okay, Tarot Readers Academy students are all over the world. If you are unable to watch your course the day it goes live you will be able to access it forever via your student portal at the Tarot Readers Academy.
What Is The Last Day I Can Enrol In Tarot Summer School Courses?
12 AM PST on the 10th of August 2017
There will be a closing ceremony on the 11th of August.
Are There Payment Plans Available For The Season Pass?
Yes, there is a payment plan option for the season pass, you will see it when you click, 'enrol in course' or scroll down to the bottom of the season pass page on the Tarot Readers Academy.
What Are The Payment Methods Accepted At The Tarot Readers Academy?
All major international credit cards (Visa, MasterCard, American Express) are accepted and so is PayPal.
Please note that if you are geographically located in the EU, VAT will be added to your course investment at checkout. This is done automatically by the software we use.

What Is The Refund Policy With Tarot Summer School Courses?
There is a 30-day refund policy from date of purchase. Please contact the headmistress at [email protected] for these enquiries.
Please note that you will not have access to the courses if you process a refund.
Is There A Way To Speak To The Tarot Summer School Teachers Of The Course That I Have Enrolled In?
Summer School Teachers can be contacted through our Facebook Community and will also be joining in on the live Campfire calls where you can ask them questions about their courses. Not all Teachers will be able to join us for the live calls but they will try to make it.
What If I Can Not Make Any Of The Campfire Q&A Sessions?
If you have a burning question or want to ask your teachers something specific about the workshop that you are in you can submit a question via email or the Tarot Readers Academy Facebook Group and we will endeavour to answer it for you.
As a Tarot Summer School student you will have access to the recordings of the Campfire Q&A sessions after they are done via your Student portal at the Tarot Readers Academy.
Your Instructor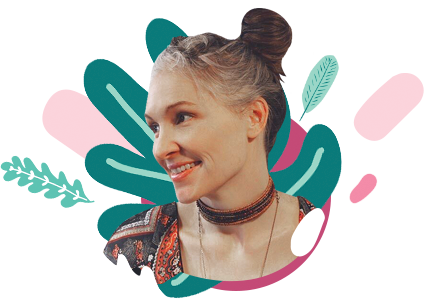 It's always so hard to write a bio, isn't it?
I'm an oracle and tarot deck creator, and I'm also a brand catcher and a dream builder. I love helping people to tune into their intuition, find their joy and launch their success! I have always been a little all-over-the-map with the projects I take on, because I like to let creativity take me where it will. This is how I tune into my joy... and I am happy to be here with you as an instructor!

xo

My work:
Sacred Creators Oracle
Light Seer's Tarot
The Muse Tarot










Course Curriculum
Getting Started with your Tarot Planner and Deck Creation Basics!
Available in days
days after you enroll
Deeper into your plan and your artwork
Available in days
days after you enroll
Printers and Papers and Decks, oh my!
Available in days
days after you enroll